Do it like the romans did it: team building 2018
We breathe technology and innovation and we get our energy from the satisfaction we get when building up successful apps. It's pretty hard to set us apart from this lifestyle, because it did, indeed, suppress the status of a daytime job.
We like having our desks messy, covered up in devices so we can write and check our code faster and better.  We briefly unplug, with a coffee on the terrace, a Fifa in our game room, or maybe a beer after-work, but still, most of the times, our mind remains with that last piece of code that may need some comments or some rewriting.
However, from time to time, we do need that escape in nature, in the land of no technology, just to reconnect with one another and enjoy some quality time together, to relax and to recharge our batteries .  That's why we have our team of girls who always have our back . It was them who thought about the best location for this year team building. "Skiland" was chosen.
A guesthouse to dream of
The location is placed in Baisoara, one of the areas in Romania with the highest level of ozone, the key element for a sturdy health. Even the cows are having a blast here. It's not just in the Alps, as Milka told us, that happy cows give the best milk. It is also here, 50 km far away of Cluj, Transylvania's heart. 
The guest house is hidden up in the mountains, at an altitude of 1450 m. It offers breathtaking views from our room balconies, with green hills spreading all around, trees, forests and lawns, all mixed in a great symphony. We knew we were going to have fun, even without knowing what the activities were about to be, when we read about the facilities: two terraces, a pool, jacuzzi and restaurant with delicious food. However, it were the ATVs (all terrain vehicle) waiting for us outside that impressed us the most, on the first day. The boys were the adventurous ones, most of them riding an ATV for the first time. But our girl Teodora did not stood aside either, because she's a Tapptitude girl and she enjoys practicing extreme sports, in general. Remember our last article?
Friday went by in a blink of a moment. "Chill" was the keyword of the day, while we took a trip to see the surroundings, played board games and enjoyed the pool preparing us for what was going to come for the next day.
Ready? Set, Go!
This year, Simona decided to go for something different: she thought to join forces with Ascendis, a  professional agency, specialised in organising thematic team buildings . After going through several options, the theme of "Colosseum" was chosen. The main objective was the unlock of a treasure chest for which 4 keys were needed. For this, we split in four groups of courageous armies, called: "The Spartans", "The Amazonians", "The 9th Legion" and "The Gladiators" who were about to pass through every challenge to find the precious keys and get the treasure.  
Photo Challenge
The first activity got us all in our creative mood, because we really needed to make use of our imagination.  We got a list of subjects, for which we had to make a representative photo. The evaluation was made after the number of applause each team got and the laughter their pictures  provoked.  Imagine this bunch of IT geeks transforming in a hip-hop band, a rock one, playing Superman, recreating a scene from Titanic, or a karate movie. We had a great excuse to unleash all those secret alter egos :))
Giant Jenga
After fun, comes work. "Jenga" is a game which requires physical and psychological abilities. Players must put aside the elements from a tower and place them at the top. The rule is that only one hand can touch the tower at a time. The winner is the one who creates the tallest tower, but which must(obviously) stand up. Take a look at one of the  teams and how close they were to winning this game, before their tower collapsed.  They aimed to build the tallest tower, but forget to pay attention at the foundation. You need a strong base so you can build things up, right?
The team who got this right, were "The Amazonians" who build the tower tall enough to win and also not too tall so it stands up on its own, making them the winner of the challenge.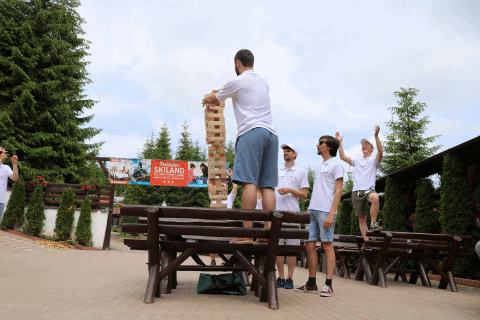 And just like in real life, you need to know when to stop and when to push it, not to turn your advantages away.
Leonardo's  bridge
This was indeed a challenge in putting our team spirit at work. Only an involved, proactive and collaborative team could keep up with the genius of Leonardo Da Vinci, who designed this bridge while he was under the patronage of Cesare Borgia. It requires no specific skills to manufacture the parts and no tools whatsoever.
Although this bridge is extremely simple in it's design, it was quite difficult for our teams to assemble it correctly by simply looking at the parts: 28 wooden sticks. It had to be 4 metres long, self-supporting and easily destroyed if only a single stick was moved away.
Through many trials and errors and a few wrong approaches, after getting some clues from the organisers, our roman fighters were put on the right track and succeed on creating a self-sustained, durable bridge, just like the nature of our teams. A lot of coordination was needed, together with creativity and knowledge sharing, all this while being flexible enough to readjust our strategy. Another key was gained getting us one step closer to unlocking the treasure.
Babel's tower
Now this was one of the most fun activities, in which we laughed a lot, even though our hands hurt pretty bad.
We had 8 piece of wood that we had to place vertically, one above the other, on the floor. But, it wasn't that easy, because we need to use a derrick and the strings in order to do that. So each team member had to take a string in his hand, forming some sort of a circle and move in coordination with the rest in order to perfectly place the wood pieces, which were, "cherry on top", cut at different angles.
It was a general mess when everybody shouted in the same time: "go slower, to the left, no, too much, go more to the right ", but, once again, we quickly readjust and learnt  that it would be best to have a single person to coordinate us. So, having a precise planning, communication well organised team work, we managed to finally close this activity.
Equilibrium
We took a break from building(as a preparation for what was going to come in the last activity) and focus on finding that good, precious balance. We got a chance to actually see materialized this concept of "having too much" on one side of life(table, in our case) and too little on the other, as well as, taking or adding something, in one area, will instantly affect the other part.
We used some small toys of wood that we had to place on an unstable round table, in such a way that the table would stay in equilibrium, otherwise they would all fall to the ground. It wasn't easy, but the extreme part came the second time , when we got blindfolded and a chosen person from each team had to guide us through placing the wooden pieces on the table.
Colosseum
You know what they say: "Rome wasn't built in a day". Maybe that's why  Colosseum ruins are still being visited by tourists from all over the world. However, we are in times of great speed and, as we don't have romans time, we had to build our catapults in 45 minutes. This was our final battle and we still had to bring one more key to unlock the treasure.
This task wasn't going to be  any easier, but, at that point, we've had already learnt how to work best together, in the shortest of time.
Each team got the necessary tools for building the catapults (wire,clamps, pliers) used for throwing the dangerous bombs(some big chicken eggs). Once again, we had the chance of playing the constructor role and let our imagination role together with the precise calculus for finding the right angle that would throw the egg bombs farthest away.
The girls took care of the artistic part, building the team "brand". For this, they created personalised flags, according to the team names and characteristics:  "The Spartans", "The Amazonians", "The 9th Legion" and "The Gladiators".
It was a lot of fun building those catapults:  one of them was throwing eggs backwards, and another had a strong "human element" meaning it was one member of the team, hidden in a colored box,  who actually threw the egg,. There were no rules, just technique, imagination, improvisation and fun.
After these soliciting activities, we had some well deserved break, preparing for the final show of the day: the party.  But this is not something to be told, only experienced. Have we made you curious? Drop us a message and who knows, maybe next year you'll be here, to experience it in person.